In Memory
Kenneth Luther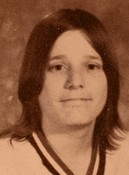 Passed away on Feb. 18, 2009 (Thanks to Paula Jensen for that information)
OBITUARY:
Kenneth Ide Luther
Ken Passed away suddenly on Tuesday, January 16, 2008, in Eureka, CA, at the age of 42. He was born in Arcata, CA, on May 22, 1965. He graduated from Eureka High School in 1983 and was employed by Eureka City Schools as a custodian for many years. Prior to that, he worked at Blue Lake Forest Products and Red Baron Pizza in Eureka. He was a lifelong resident of Humboldt County, of which he felt was one of the best places in the world with everything you could ever want.
While some people knew Ken as "Kenny", and others knew him as "Luther", everybody knew him as having a great sense of humor, beautiful blue eyes, and his ability to recall facts about nearly everything.
Ken loved to travel. In his short life he was able to see most of the United States, and had traveled to Japan twice to visit his lifelong friend, Dennis Staggs, and to be tattooed by Horiyoshi 3. He loved sushi and enjoyed trying the different types available there. He was also able to visit other parts of Asia and North America.
Music was a big part of Ken's life; he loved all types of music and going to concerts. Ken considered music to be one of the best things in life. Ken also enjoyed listening to Howard Stern. He was often seen sitting in his truck listening to him on his Sirius Radio. He loved history and watched the History Channel regularly. He also loved reading and was an avid sports fan. Towards the end of his life, Ken had become interested in online shopping, air rifles and poker.
Ken is survived by his parents, Guy and Judy Luther; grandma, Lucille Pelroy; brother, Dana Luther; sister and brother-in-law, Carrie and Trevor Carlson; sister, Kathy Luther; nieces, Katrin and Camille Cardona; Great Uncle and Aunt, Charles and Virginia Sherman; Great Aunt, Eunice Simpson; aunts and uncles, Maybelle Luther, Grace Summers, Don and Mary'l Atterbury, Dexter Luther, Bill and Pennie Evenson and Jerry Pelroy; his Godchildren, Haiden "Scoots" Durrett and Ryann Durrett; numerous cousins, his co-workers at Eureka City Schools, and a world of friends.
He was preceded in death by his grandparents, Mike Pelroy and Slade and Erna Luther.
It has been difficult for our family to deal with the unexpected death of our son and brother. We wish to thank both our friends and Ken's friends for their support and kindness as we all grieve our loss. A special thanks to the Bleything and Francis families for their love and support. We would also like to thank Dr. Wolf, Dr. Birton and Dr. Z at St. Joseph Hospital.
Family and friends are invited to join us in honoring Ken's life and his lifelong love of pizza at a memorial service at Babetta's Restaurant at 1587 Myrtle Avenue in Eureka on Saturday, January 26. 2008, at 12 p.m.
Please sign the guestbook at www.times-standard.com, click on obituaries.
Published in Eureka Times-Standard on Jan. 22, 2008 - See more at: http://www.legacy.com/obituaries/times-standard/obituary.aspx?n=kenneth-ide-luther&pid=101666403#sthash.Unxqp9j6.dpuf