In Memory
Mark Simon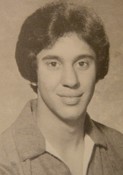 Passed away November 26, 2005 (Thanks to Paul Jensen for the update)
OBITUARY:
Mark Allen Simon passed away on November 26, 2005, in Blue Lake. He lived most of his life in Eureka. He will be remembered for the joy and kindness he showed toward his family, friends and pets.
Mark was preceded in death by his grandparents, Henry and Victoria Fernandes and Claude and Wanetta Simon. He was also preceded in death by his uncle, Michael Simon and his cousins, Dena Grate and Tammy Roads. He is survived by his mother and stepfather, Henrietta and Wes Crowell of Arcata; his father and stepmother, James and Lynn Simon of McArthur, CA; his brother and his wife, Ken and Danielle Simon of Eureka; and his niece and nephew whom he loved dearly, Jessica and Riley Simon. He is also survived by numerous aunts, uncles and cousins. He also left behind Carrie, Sophie and Michael, who held a special place in his heart. They will miss him greatly.
Mark loved anything to do with the outdoors. Fishing, camping and hunting. He took his beloved dogs Kyle and Hanna everywhere he went. If you saw Mark, you saw his dogs. He hunted every chance he got and was an active member of the NRA. He was an avid reader and provided for his family with a vast vegetable garden. When he returned to the Eureka area following his discharge from the Marines he worked first for Rainbow Body Shop and then transferred to Fred's Body Shop where he mastered his auto body painting skills and was well respected for the quality of his workmanship.
A "Celebration of Life" party was held on August 6th in Arcata for family and friends. Mark's ashes will be spread at his favorite camping area in a private ceremony with immediate family.
If you wish to make a donation, please consider CASA of Eureka or Big Brothers/Sisters in the name of Mark Simon.
Please sign the guestbook at www.times-standard.com, click on obituaries.
Published in Eureka Times-Standard on Aug. 20, 2006 - See more at: http://www.legacy.com/obituaries/times-standard/obituary.aspx?n=mark-allen-simon&pid=18908878#sthash.sykK1En4.dpuf