In Memory
Wende Davidson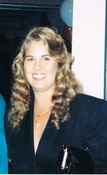 Passed away due to cancer on February 18, 2009 (Thanks to Paul Jensen for the update)
OBITUARY:
Feb. 10, 1965 - Feb. 18, 2009
"Loving Arms"
If you could see me now
The one who said
she'd rather roll away.
The one who said
she'd rather be gone.
If you could only see me now.
I've been too long in the rain,
Too long in the wind
Seeking any comfort that I can.
Looking back and longing for the freedom from my chains.
Lying in your loving arms again.
Wende Ann Williams (Davidson) passed away on Wednesday, Feb. 18 in her home at the age of 44 with family and friends by her side. Although she fought a prolonged battle with cancer, she faced her death with courage, strength and dignity.
She is survived by her loving partner Kevin Taber; her three children Jeremiah, age 15, Glory, age 9, Tim, age 9; parents Reid and Marge Davidson and Gloria and Chuck Carfrey; siblings Sonja, Randy, Bill, Shannon, Mike, and Paul; a large extended family and group of friends and of course Tiffany.
A celebration of life will be held on Saturday, March 7 from 10:00 am to 2:00 pm at the Willits Senior Center, 1501 Baechtel Rd, Willits California. All those who wish to attend are welcome. Please bring a favorite dish to share with everyone as we share in our memories of Wende's life with each other. If you wish to send flowers, Flower Lady of Willits will be handling arrangements at 242 S Main St., Willits, 707-459-9075.
We would like to extend our thanks and gratitude to all those who helped support and care for Wende during her illness. If the world were only made of people like you I guess we would all be in heaven.
Wende, our lives will be less without you. You will not be forgotten.
Please sign the guestbook online at www.times-standard.com, click on obituaries.
Published in Eureka Times-Standard on Mar. 1, 2009 - See more at: http://www.legacy.com/obituaries/times-standard/obituary.aspx?n=wende-ann-williams-davidson&pid=124690193#sthash.BI4Kv4Yt.dpuf